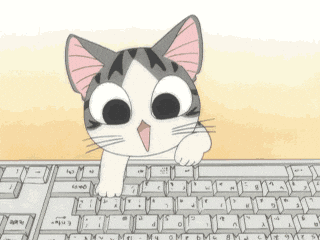 Welcome back! I took a brief break from blogging. Why? I fell out of my routine. If there is one thing I've been trying to forcibly bash into my head, it's routines. I'm a creature of habit and if my habit is coming home everyday after work and watching cat videos, that's what I'm going to do everyday.
Establishing a routine takes time, repetition, and (you guessed it!) dedication to goals. Here is a look at the things I keep in mind when trying to get my routine going. This can apply to both writing routines and routines in general.
Become a Mad Scientist
I've experimented a ton to get into a writing routine. I've made daily goals, weekly goals, you name it! I try everything out and make notes about what is and isn't working. Writing personal reflections help you stay honest about your strength and weaknesses. You have to be 100% honest with yourself to make your experiments work. Keep poking at every inch of your routine and eventually you'll find what works best! 
Routines are best served bite sized
You may have the best of intentions when it comes to creating your routine. Keep mind though that just because you want to write 40 hours a week doesn't mean it's going to happen. Start small with your goals and see where you can find room to expand. If you start too big you might become overwhelmed and not even try. 
Borrow from Others
One of the most helpful things I've done is trying out the routines of others. I'll give that routine a week or two test drive and see what works for me. You'll know quickly what needs to change and how to better make the routine fit your needs and habits. Play around! Don't feel locked in! 
I hope I was able to help you a bit with making realistic routines. Remember that routines are born best out of repetition so keep plucking away! Let me know what routines you are trying down below.
Side Note:
Thank you so much for your love and support as I practice and perfect my writing and life routines. I'm hoping to get back to regular blogs and vlogs and I appreciate all the support I get from everyone of you. You have no idea how much it warms my heart when one of you sends me a thank you or shares how I've inspired you! If you'd like to help me out by buying me a coffee, visit here! Ko-Fi allows you to make a one time donation to help support creators and thank them for the content they produce! I love creating for all of you and I'm hoping I can give back to you more soon! But that's another talk for another day! ;)
Until next time, tootles!!!!
Please reload